Chef Walter Mazur of Blue Bayou Inn, Manitowish Waters, Wisconsin, provides his faithful followers and all connoisseurs of fine food with something a little extra special with this collection of Louisiana-style recipes.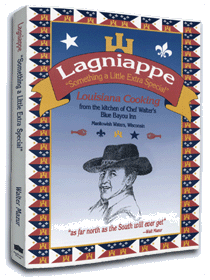 Trained in the kitchens of Louisiana restaurants, Chef Walter opened the Cajun House restaurant in his native Chicago and, in 1980, moved to Manitowish Waters to open Blue Bayou Inn.

Here he brought the timeless flavors of Cajun and Creole cooking and his ability to make things special.

In the spirit of lagniappe, he compiled his recipes to share with his friends and loyal guests who return year after year to the Northwoods of Wisconsin for his delicacies.

Recipes for jambalayas, etouffees, and praline tarts as well as instructions for making a roux and preparing live crawfish are just a few of the little extra special some-things for you to discover in this cookbook and enjoy in your own kitchen.